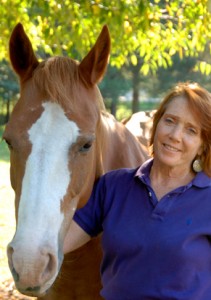 Sacred Lotus Healing was founded by Nancy O'Donohue, a healing practitioner and writer who has worked in the field of holistic therapy and personal development for over 30 years and has taught workshops throughout the United States, Europe and Australia.
She studied healing for over 15 years with indigenous elders and when it came time to further develop her skills, chose the Spiritual Healing modality taught by the largest healing organization in Europe: The Healing Trust. She is a certified Healer Member of and Tutor for England's NFSH-The Healing Trust and has been teaching Spiritual Healing classes around the U.S. since 2008.
Nancy includes horses and pets in her practice and took Margrit Coates' Masterclass in Healing for Horses. She is also a Level III Reiki Master/Teacher and studied with well-known animal Reiki practitioner Kathleen Prasad.
Under the pseudonym Molly Larkin, she is the co-author of the international best-seller, The Wind Is My Mother, which has been translated into eleven languages. She has also written a number of articles on energy therapy in such publications as Healing Today, Healing Garden Journal, Natural Awakenings, Holistic Horse and Natural Horse. Copies of these articles can be found in the Press page of this website. She is the author of The Fountain of Youth Is Just A Breath Away; Breathing Exercises for Relaxation, Health and Vitality AND Meditations on the Natural World; A Guided Journal to Find the Technique That's Right For You
She sees people at her office in Corrales, New Mexico and provides house calls for pets and horses in Albuquerque, Corrales and surrounding areas.
Long distance sessions are also available as time and space are no barriers to the healing process.